Anti spam function of Foxmail can stop many spam emails
December 13, 2016 at 08:20
Foxmail was developed by Chinese, it's really a very good email software. It receives email fast, and it can manage different email accounts conveniently. It's a little pity that the latest version of English edition of Foxmail is 5.0, there is no 6.5 version of English. So we just can use Foxmail 5.0 English edition, you may search "Foxmail 5.0 English" on Google to download it, it's a free software.
How to stop many spam emails with Foxmail? Please open Foxmail, click the menu bar "Tools - Anti Spam Options", as below:
Click the "Black List" label, then click "Add", copy and paste the spam emails one by one which you want to stop. As below:
After this operation, when click "Check" button to receive emails, all of the spam emails which in black list will be stopped. If one site often sends email to you and you do not want it, you can add the email address to the black list.
Apply the Google apps 7G free enterprise mailbox and Foxmail set successfully
December 11, 2016 at 15:17
My Google apps 7G free enterprise mailbox had applied successfully, Foxmail can receive and send normally, such as my mail is aufe@aucist.com, the steps:
Go to your domain name control panel, at the Mail Exchanger record (MX), the target host is ASPMX.L.GOOGLE.COM, just need to set simply on the domain control panel. It will take effect soon, it's about several hours later. (In addition: If the MX record of your domain is blank, please add, the method is Name should input @, or input yourdomain.com without www. Hostname or Points to is ASPMX.L.GOOGLE.COM)
Please access http://www.google.com/apps/intl/en/group/index.html. At right side, click "Get Started", according to the tips to fill them.
After apply successfully, wait for several hours until the MX takes effect, then send an email to yourself to test. Log in your mailbox on the webpage, please go to http://mail.google.com/a/yourdomain/, such as http://mail.google.com/a/aucist.com/
The setting steps of Foxmail:
SMTP Server: smtp.gmail.com Port: 465
POP3 Server: pop.gmail.com Port: 995
POP3 Account (Email username), it needs fullname, such as my POP3 Account is aufe@aucist.com, otherwise it can't receive and send mail.
Both of SMTP and POP3 needs to open SSL, at the mail account, click the right button of mouse "Properties - Mail Server - Advanced", the setting methods are as below:
For the public interests, please don't send spam with Google free enterprise mailbox, because maybe it will make Google will not provide this free service any more, or ban your account, please treasure your enterprise mailbox.
How to change Name Servers for yahoo domains?
December 09, 2016 at 12:13
Log in to your Domain Control Panel. If you are not aware that where to log in, you may access http://smallbusiness.yahoo.com/domains/, click "Sign In" at top, after log in, at right click "Access Your Account - Small Business", as the picture below, then it will redirect to your Domain Control Panel.
On Yahoo Domain Control Panel, we should unlock the domain, then can change DNS. Click "Edit Domain Locking", as below. Then follow the tips on the web page.
Make sure "Your domain is currently unlocked". Then click "Manage Advanced DNS Settings", click "Change Nameservers", as below:
I strongly recommend a very good free DNS he.net, you should register an account on https://dns.he.net, one account can add 50 domains, the brief usage you may view this I wrote: http://www.aucist.com/emboss/4, then you should add a new domain on the panel of he.net. On Yahoo Panel, input NS1 and NS2, as below:
After change Name Servers, you should lock your domain.
he.net is a very good free DNS for domains
May 15, 2019 at 18:48
I've used the free DNS of he.net for several months, it was steady. I searched free DNS on the internet, but there are a few of them are available. The only available free DNS I searched are Go Daddy, and he.net. But if your domain is parked on GD and uses the default parked DNS, you can't use the free DNS of GD, it's a little inconvenient.
The registrars provide free DNS for the parked domains, why do I need to choose a third party DNS? Because once I tranfer my domain to another registrar, I need to input the records of DNS, it's very inconvenient. So if choose a permanent third party DNS, I need not to do this.
Although there are some inconveniences on the he.net free DNS control panel, such as all of the different types of records are placed together, they are not sorted. When you are used to use he.net free DNS control panel, probably it's not a big issue, because he.net free DNS is the only a few of available free DNS providers.
Recently, there were some unsteady times, so I suggest that input all of the DNS(es) of he.net, such as:
ns1.he.net
ns2.he.net
ns3.he.net
ns4.he.net
ns5.he.net
Usually, after the domain is transferred to another registrar, the DNS(es) of domain need not to change.
Cool Edit Pro concise manual
December 08, 2016 at 16:10
Cool Edit Pro 2.0 is a very famous Karaoke software, it has the powerful audio functions, I've used this software for more than 8 years, the usage is simple, I'll introduce its usage simply. My system is English XP, Cool Edit Pro 2.0 also is English edition. If you can't record your voice, please strictly follow the steps I'll write, you will success:
1. Open Volume Control, take out the hook at "Mute" under Microphone, turn up the volume of Microphone to maximum, as below: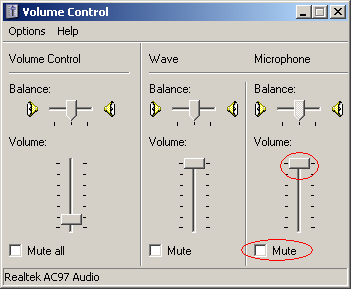 2. If "Volume Control" does not have "Microphone" option, please click the menu bar "Options - Properties", as below: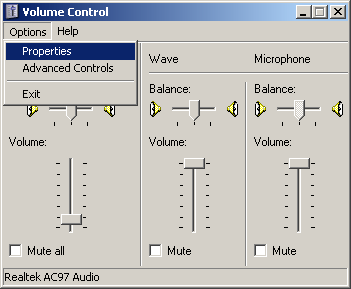 3. As the picture below, at the single select box, choose "Recording", tick at "Microphone":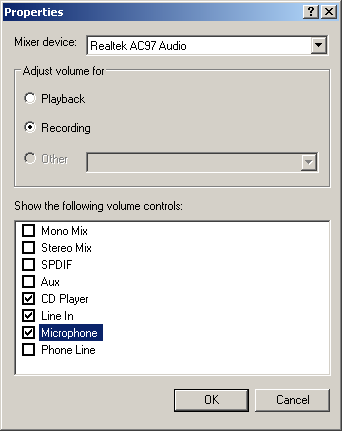 After click "OK", it will open "Volume Control", tick the hook in front of "Microphone", and turn up its volume properly. At this tims, the settings have been finished. If you have not set them correctly, you can't record the voice.
4. After start up Cool Edit Pro 2.0, as below: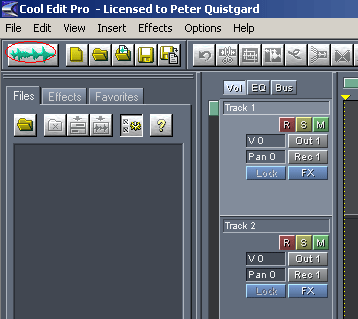 At the picture above, the waveform which in the red round, it can switch record mode/audio edit mode. When it has the R, S, M 3 buttons, it's record mode.
5. Import an accompaniment or WAV file. The method is, at a blank place of "Track 1", click the right button of mouse, then click the menu button "Insert - Wave form File...", choose the accompaniment fill in your harddisk.
6. After import the accompaniment file, you may start recording. Click the red "R" button at "Track 2", make it light, as below: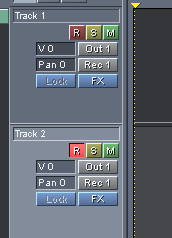 7. Start recording. Click the red record button, as below: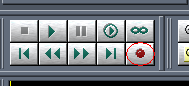 8. Increase the echo for your voice. As the 4th step above, change to audio edit mode. You can see 2 waves, these are 2 sound channels, press Ctrl+A, it can select all. As the picture below, click the menu bar "Effects - Full Reverb...", choose "Medium Concert Hall (open)", it will have a good effect.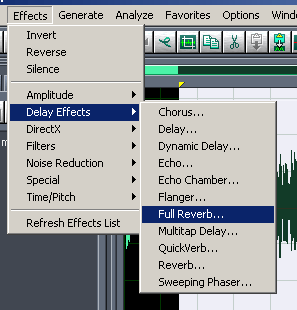 9. Turn up or turn down your voice. The operation method is similar with the 8th step, change to audio edit mode, press Ctrl+A, that's to select all. Click the menu bar "Effects - Amplitude - Amplify...", try to input 10. If the volume is too high, you may reduce it.
10. Set the equalizer for your voice. The operation method is similar with the 8th step, change to audio edit mode, press Ctrl+A. Click the menu bar "Effects - Filter - Graphic Equalizer...", at "Presets", choose a proper equalizer.
11. Save to MP3. Please view the 4th step, change to audio edit mode. Click the menu bar "File - Save Mixdown As...", Format choose "mp3 PRO (*.mp3)".
Wish you record mellow voice!
White snow of north city
December 07, 2016 at 21:33
Took pictures random in Changchun.
Because the thing is the eldest brother Benny lectured on Xing Sheng yelling for tea, and despise Zhou Yingduan Chata hot hand will want to beat her. Zhou Ying looked at the well-dressed but truculent and unreasonable childe, heart without fear. Instead of dodging a few times, one foot in the past, Xing Sheng moved the kick on all fours. Even if this handsome childe and affectionate, she Zhou Ying is no matter, just want to find an excuse to house and dad reunion it Xing Sheng had never been so moved to tease, want revenge back was Shen master away. When he comes out again, it's the butt.
The evening's Zhou Ying vigil, Xing Sheng moved screaming without sleep, looking for an excuse to toss this girl. And how can Zhou Xiang be easily tossed about? She pretended to be obedient, instead, she laid her heavy hand on Xing Sheng's back. Until Xing Sheng moved to stand, begging for mercy. Zhou Ying was quiet, the bare teeth two young master.
A beautiful lotus pond
December 05, 2016 at 11:12
This morning, the girl of lotus pond woke up from a dream, she stretched, yawned, gradually other creatures were awake. The pond suddenly became lively, fishes under her feet through the hide and seek, the bird opened clear voice to sing.
At noon, the sun was shining, the pond came a noise, that was these neighbors of the pond were playing happily in it! Look, a dragonfly was flying in the river freely, fairy of lotus was red in the face, slowly stretched their beautiful skirts, and the lotus leaf and lotus, they did not decline out of modesty to to see who is superior. And the naughty little fish swam and swam underneath when they quarreled, and they were very happy.
In the distance, the hills stood majestically, like the guards guarding the lotus pond, the lush mountains, the pine trees and the locust trees.
At night, the girl of lotus pond went to bed, and it returned to peace. This lotus pond was beautiful, I love this beautiful lotus pond!
A winter night
December 02, 2016 at 17:21
At about 7 p.m., we came to the park and the winter night seemed so quiet. There were a lot less people walking in the park, and occasionally a few people walked past us, and they were so hurried. Looking up at the surrounding residential buildings, ther were a few families were still having dinner. Most of the families have closed the curtains, might have been lying in bed asleep, or might be hiding in the warm quilt to watch TV. Looked at the road next to it. The car didn't flow like it used to be.
The winter night was really cold, the northwest wind is whistling across the bare trees, only blown trees, trees in the cold shivering. The northwest wind also kept me offensive, my face blew Bing Bing cold, my nose blowing red. Walking on the cobblestone road, I had to wear gloves, hats and scarves, but the winter wind was so naughty that it took off my hat and it seemed to play a happy game with me.
Although the winter night was so cold, so quiet, but I still liked the winter night.